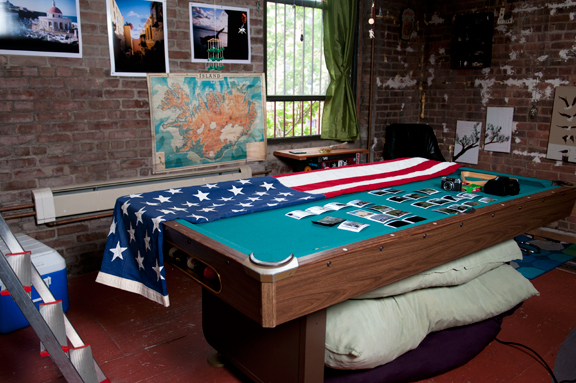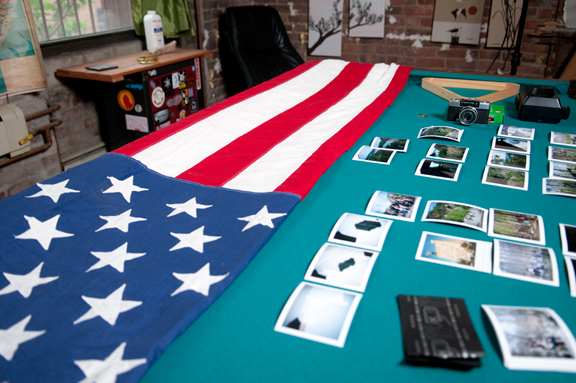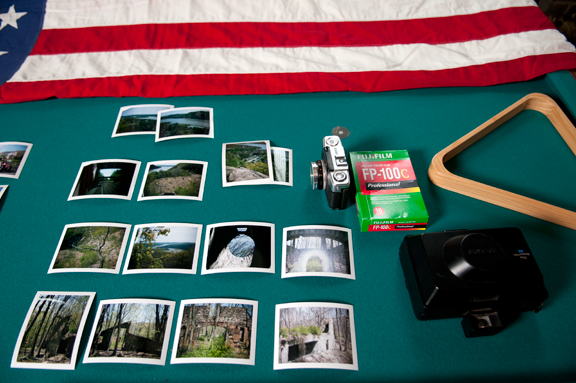 Q & A with Schoolhouse resident, photographer, and mobile maker, Chris Chludenski.
QUESTIONS:::
C & P: You make found object mobiles and also shoot Polaroid photographs. How long have you been creating your mobiles and taking photos? Do you prefer working in one medium over another?
Chris: I've been doing both for about thirteen years now. I don't prefer one medium over another but i certainly produce more Polaroids than I do mobiles. I prefer photography as an artform, as I can take it with me as I go, whereas with the mobiles I need materials and a studio space.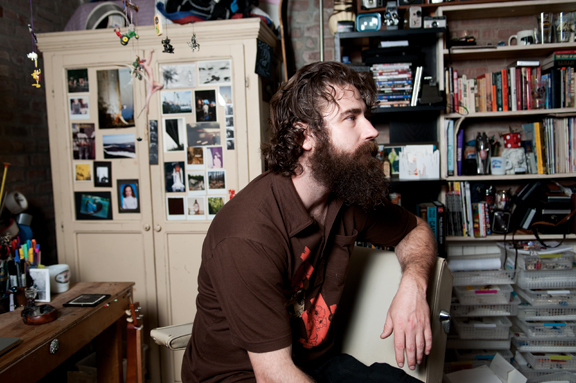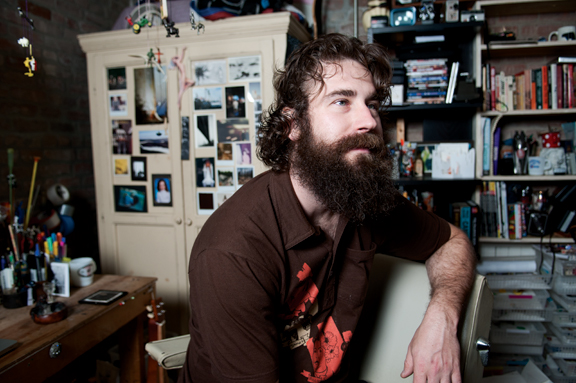 C & P: What are you most frequently drawn to as subject matter in your photography work? How about with your found object mobiles? Is there a correlation between the work?
Chris: I try to say something with the mobiles and express my views. Polaroids for me are much more documentary and don't necessarily have a message behind them.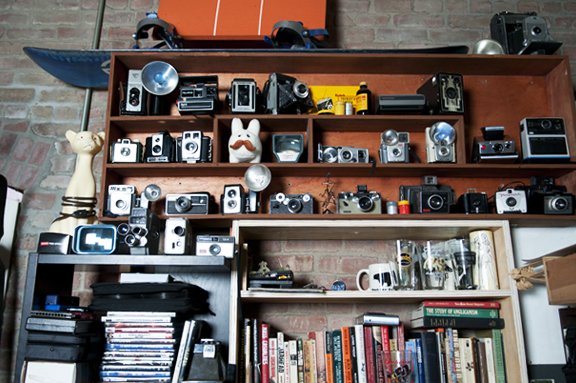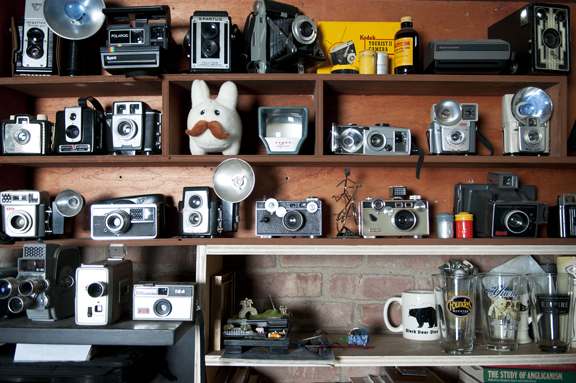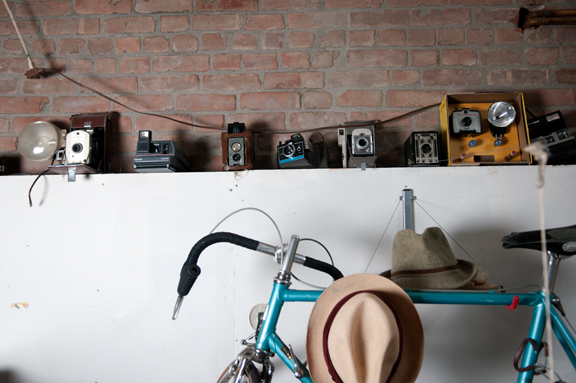 C & P: Tell me a bit about your camera collection… How many do you have? Have you used all of them? Which is your favorite?
Chris: I've got about 350 cameras. Mostly Kodaks, made between 1890 and 1980, and Polaroids, plus few Imperials, Agfas, and Spartus. Some working, some not. I've used about a quarter of them, I bet. Most would be in working order if film were available, but some are just beautiful models I can't part with. I like that the older cameras were much more stylish, inventive, and decorative than what is produced today. My favorite is between the Big Shot Polaroid, that Andy Warhol made famous in his portraits, or the Kodak Colorburst camera, which Polaroid sued Kodak over and had production of both cameras and film stopped because of patent infringement.
C & P: Now that Polaroid has gone out of business and the film is no longer available what do you shoot with?
Chris: Fuji makes a film compatible with many Polaroid Land Cameras. Also the Impossible Project manufactures instant Polaroid film for sx-70 cameras. The film itself is flawed and expensive, but the idea to keep Polaroid alive is admirable.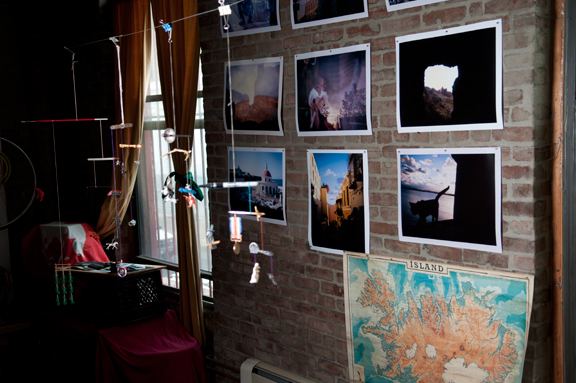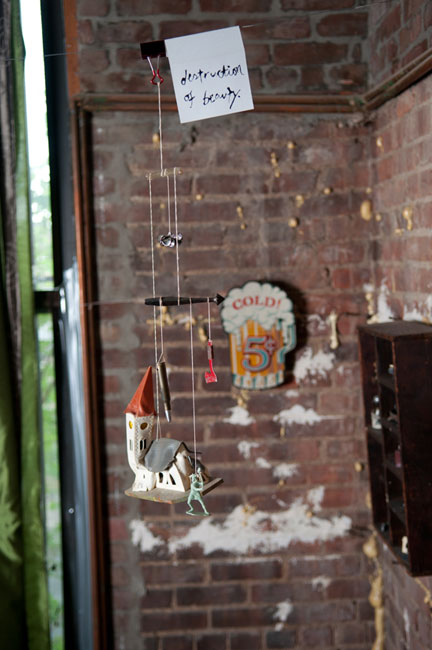 C & P: Do you ever shoot digitally or do you prefer to still use film?
Chris: It depends on what I'm shooting. I have a Nikon digital camera that I use sometimes. I've also got a Canon 35mm.
C & P: Do you feel that digital lacks a certain quality that you look for in an image?
Chris: It doesn't lack anything, its just a different aesthetic. A different view of the same thing.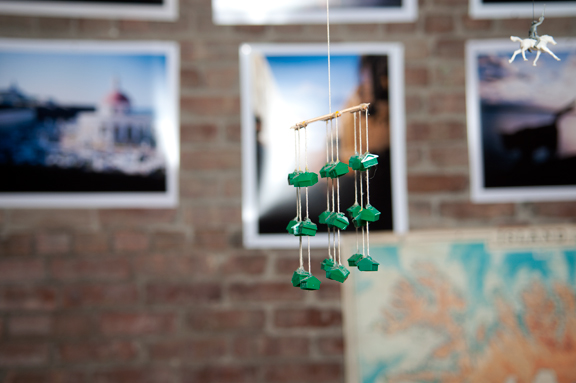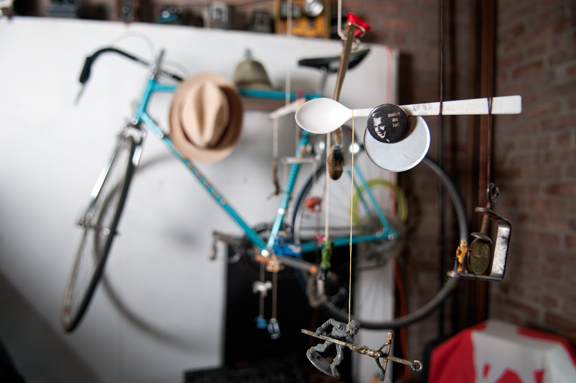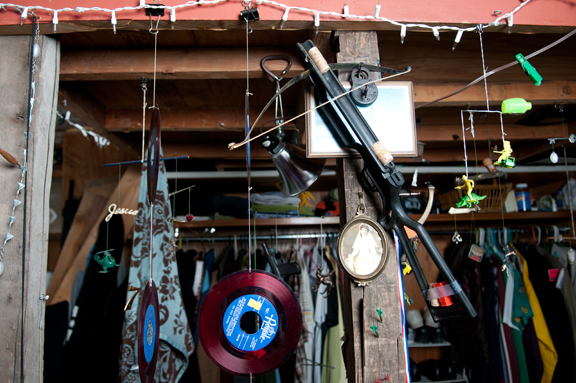 C & P: You studied at Emerson College in Boston, did you study photography there?
Chris: I earned my BA in Photojournalism.
C & P: Do you prefer living in New York to Boston?
Chris: No.
C & P: How has living at the Schoolhouse influenced your work? If at all?
Chris: I've been able to see things differently and get new perspectives.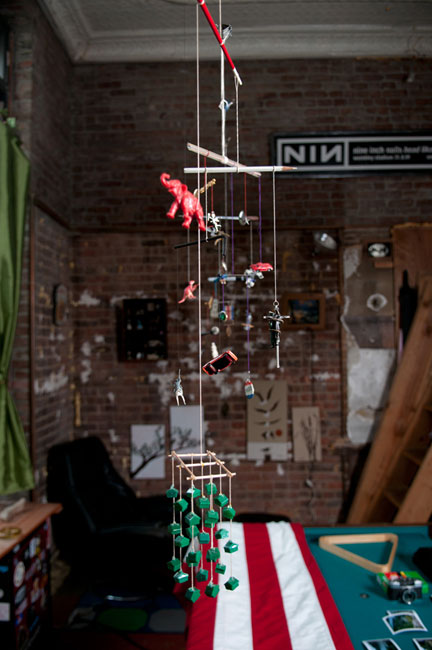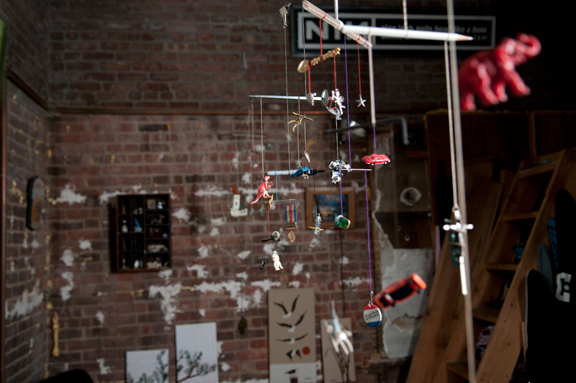 C & P: What artists have been an influence on you?
Chris: Alexander Calder has always been a huge inspiration to me. Robert Capa. Ralph Eugene Meatyard.
C & P: What could you imagine doing if you did not create art?
Chris: Nothing.
________________________________________________________________
The Schoolhouse will be open for Bushwick Open Studios from June 1 – June 3rd, stop by and see the fabulous space (and art inside) for yourself. More information here.
The Schoolhouse will be open:
Friday, the 1st – 5PM — 11PM
Saturday, the 2nd – 12PM — 11PM
Sunday, the 3rd – 12 PM – 8 PM
Augustin Doublet will be screening his new short film Adam all weekend.
Photos © Christine Navin. Do not reproduce without permission.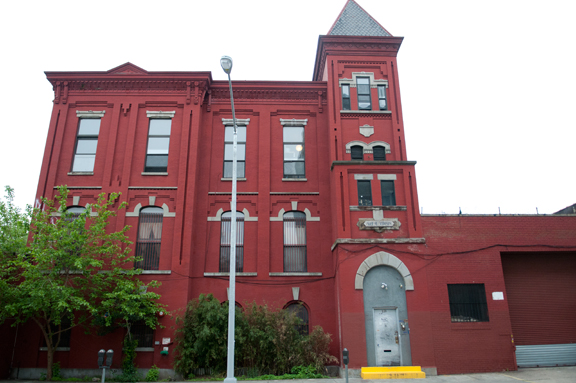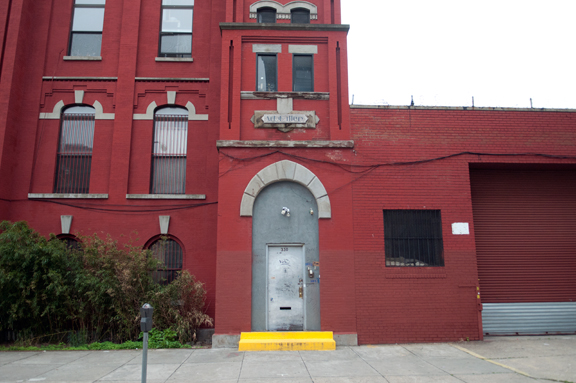 Went to check out the Schoolhouse in Bushwick the other weekend. I peeked into a few studios and photographed 3 of the artists working within those spaces, alongside their work. I also photographed some of the common spaces and the interior of the amazing building.
The Schoolhouse was built in 1883 and used as a school until 1945, at which point it was sold to be used as a manufacturing business. It was used as a manufacturing space for many years (more historical information here), then abandoned, and then converted into artist's live/work spaces in the 1990s. Originally the artists space was called ORT (the German word for site or place and also an acronym for "organizing resources together."), now the space is just known as the Schoolhouse. Since the 90s there has been a revolving cast of creative individuals taking up residence in the space. The Schoolhouse is not an art collective or commune, however, the members of the house tend to act like a family; sharing art supplies, participating in house events, sometimes collaborating on art projects, and consuming many communal meals together.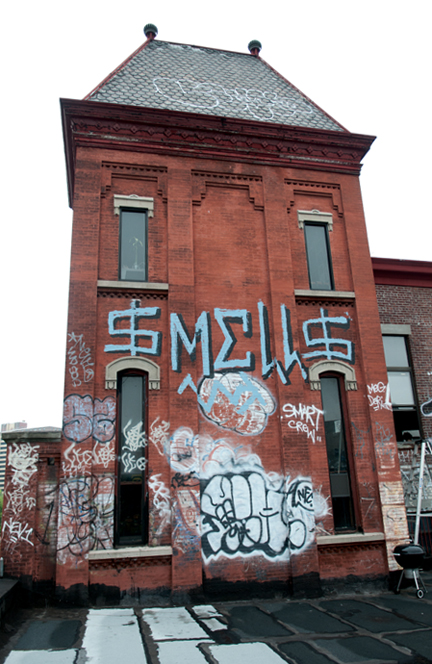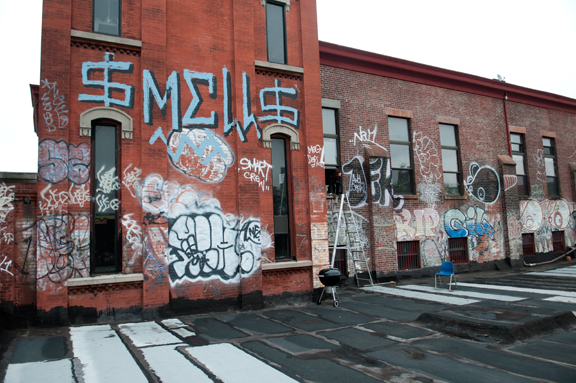 The Schoolhouse will be open for Bushwick Open Studios from June 1 – June 3rd, stop by and see the fabulous space (and art inside) for yourself. More information here.
The Schoolhouse hours over BOS weekend:
Friday, the 1st – 5PM — 11PM
Saturday, the 2nd – 12PM — 11PM
Sunday, the 3rd – 12 PM – 8 PM
Augustin Doublet will be screening his new short film Adam all weekend.
Here are some photographs of the Schoolhouse space. And a Q & A about the space with 3 of the resident artists, Justin Orvis Steimer, Augustin Doublet, and Chris Chludenski.
I will also be posting interviews over the next couple of days with these artists that concentrate more on their individual artwork and studio spaces.
________________________________________________________________
QUESTIONS:::
C & P: How many years have you each lived at the Schoolhouse?
Justin: I moved in May of 2008, so 4 years now.
Chris: 3 years.
Augustin: 3 years.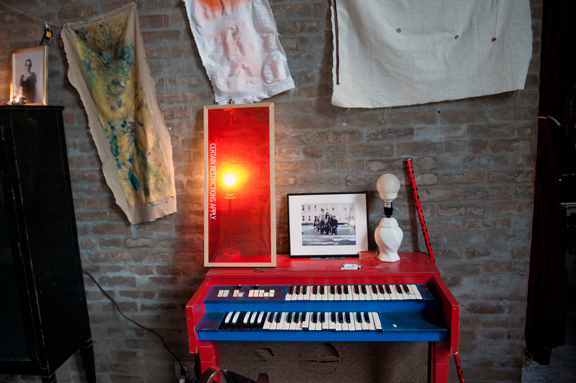 2nd floor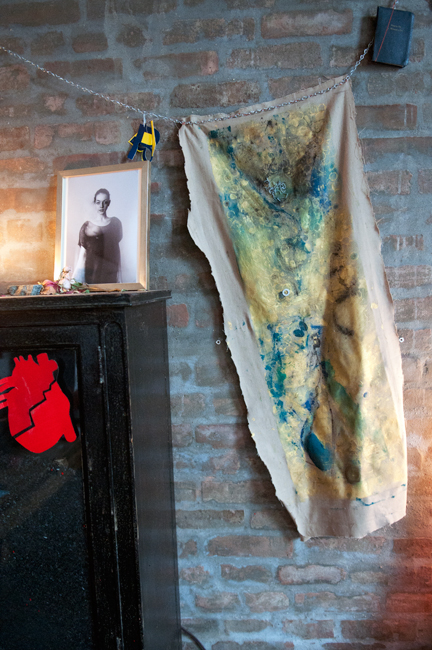 2nd floor
C & P: Have you found that the area of Bushwick where the Schoolhouse is located has changed a lot since you moved into the space?
Justin: Broadway hasn't changed a whole lot. A bodega or store will go out of business occasionally but it is replaced by something similar to what was already there. A lot of the bodegas are remodeling, putting up new signs, brighter lights, nicer counters but they still sell the same stuff. As you get closer to the Morgan and Jefferson L train stops there are a lot more start up restaurants and stores, places that weren't there one or two years ago. There are definitely more police around than there used to be, including mounted police surveillance cameras and these star wars looking mobile cop towers that raise up like 20 feet.
Chris: Not really.
Augustin: I was surprised the other day to see a young white couple carrying their babies around on Broadway. 3 years ago I truly think that the Schoolhouse was one of the few places where white people lived in this part of Bushwick.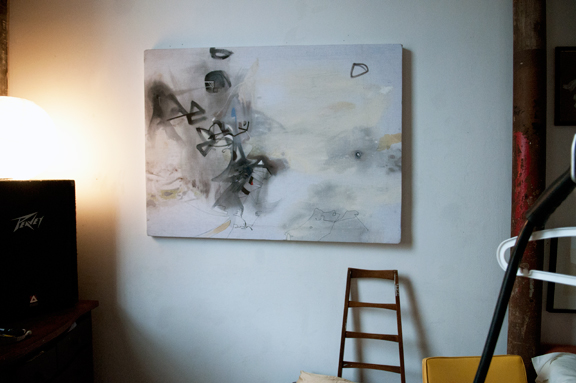 2nd floor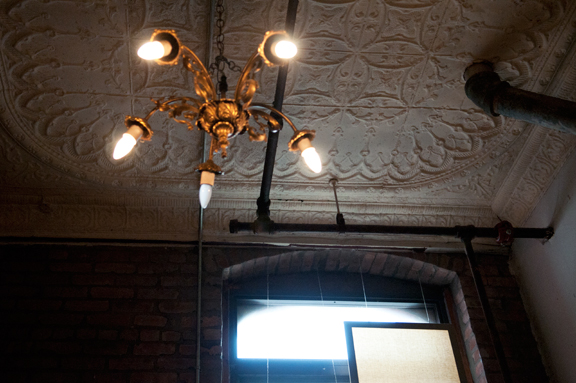 2nd floor
C & P: Have you ever lived in similar places in other cities?
Justin: No.
Chris: Nope.
Augustin: I spent one summer in Barcelona in a very creative environment but no I truly think that the Schoolhouse is unique. Actually the space and the people of the Schoolhouse played a major part in the choice I made to stay in New York.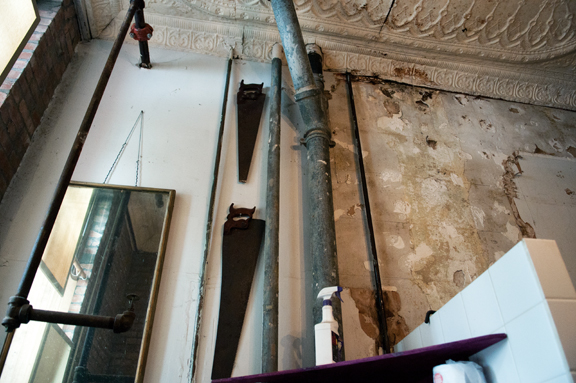 2nd floor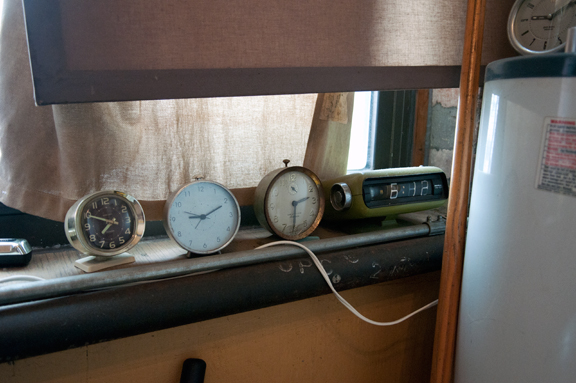 2nd floor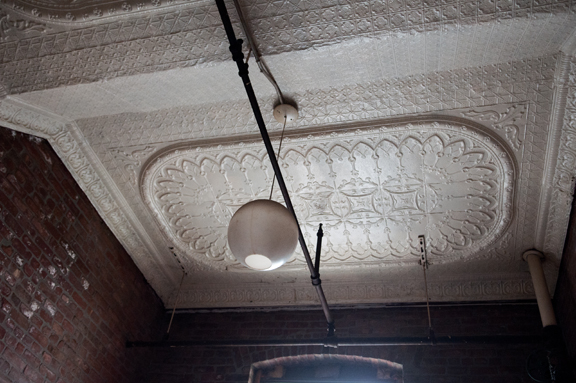 2nd floor
C & P: Do you collaborate with past and present residents of the Schoolhouse? Do you consider the residents of the Schoolhouse to be members of a collective ?
Justin: So many people have been in and out of here, it all depends. Sometimes someone moves in that just clicks and in that case collaboration happens naturally. Some people move in and keep more to themselves and don't really get involved with the rest of the house too much. Right now we have an amazingly talented group that has been living here for a couple years. We have created a family more than a collective. We cook and eat together often, we spend a lot of time talking and bouncing ideas around. When someone moves out they know that they always have a home here.
Chris: Not really a collective, per se. More like collaborating artists. It is good to have other people to run ideas by that aren't necessarily working in the same medium as you, and also there's a lot of material sharing going on, which is more convenient than having to go to the art store.
Augustin: We just finished the production of a short movie together. It was a fantastic and intense experience. All who live here are true artists and craftsman. So you can imagine how pleasant it is to work with skilled people that you love and care about.
It's the second movie that I have produced with the roommates and I truly hope to continue this type of collaboration. One of the former roommates, Derek Deems, even came back from LA just to help with the shoot.
In my view the Schoolhouse is more of a community than a collective, meaning that the bond between people is more based on friendship than on art.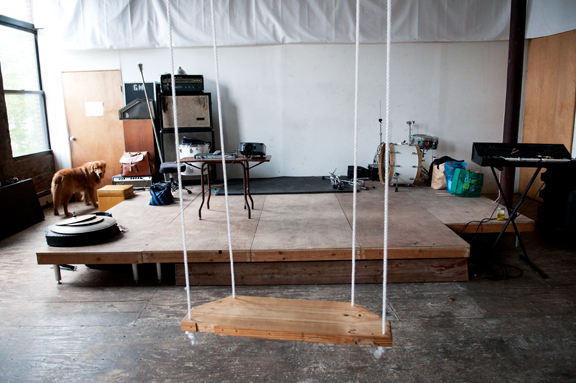 3rd floor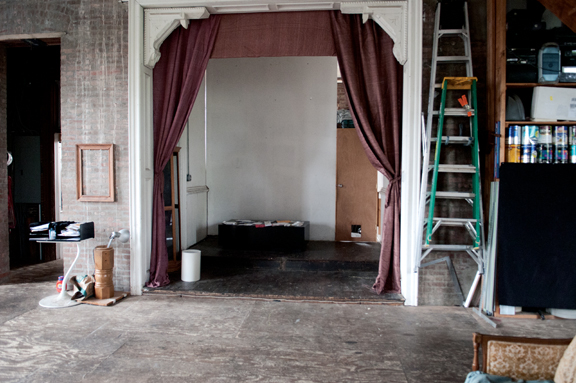 3rd floor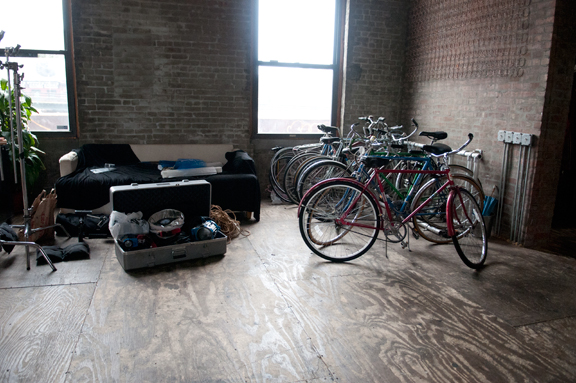 3rd floor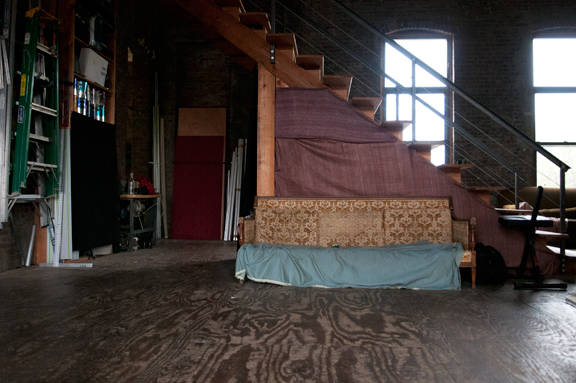 3rd floor
C & P: What is your greatest memory of time spent at the Schoolhouse since you have lived there?
Justin: Honestly what I enjoy the most is laying in the bathtub in my room in the late afternoon light, watching the reflections of the water on the ceiling and being totally at peace with the universe.
Chris: Holidays like Thanksgiving are really fun and unique when everyone's around. Some of the events we've thrown like the "tooth replacement" fundraiser will always stand out in my mind.
Augustin: The Block Party that we throw with our neighbors every summer is certainly one of the best time.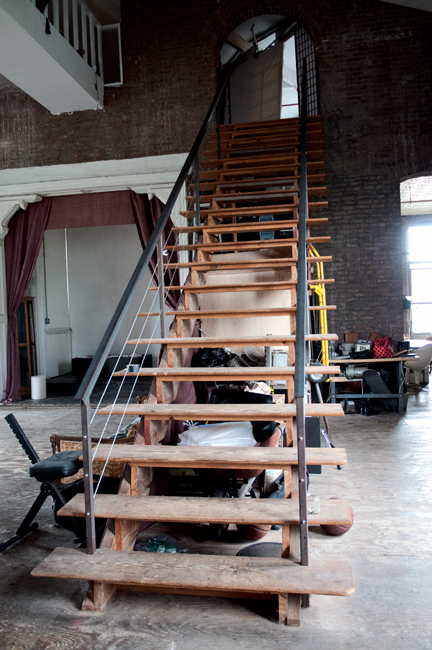 3rd floor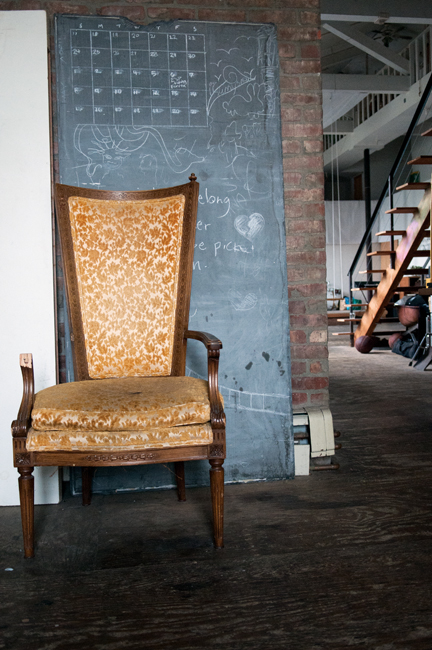 3rd floor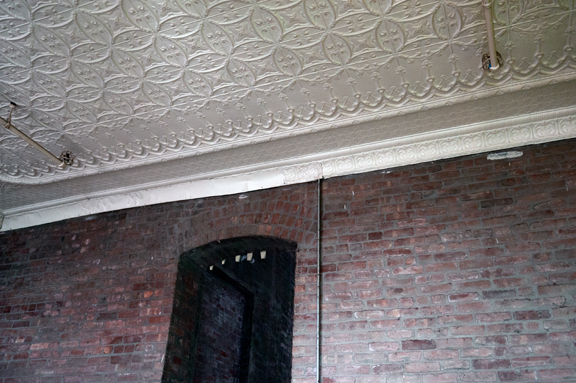 3rd floor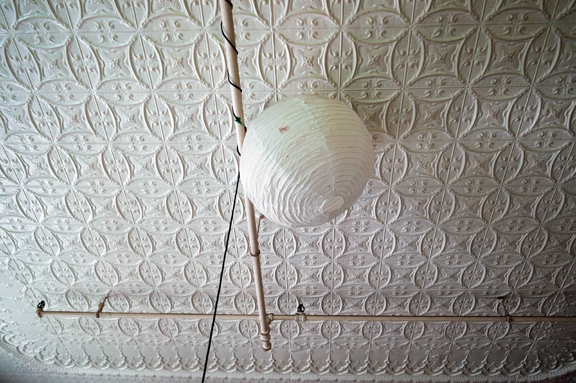 3rd floor
C & P: What sort of events do you have in the space? Art-related? Music-related?
Justin: On my floor (the second floor) we have art shows every couple of months. Usually we show the work of people living in the house and our friends. Recently we hosted an Animamus Art Salon which brought in artists who we had never met. I like for the space to be used like that, bringing people together.
Chris: Both. Plus fundraisers for art, music, or good causes…
Augustin: All types of events. The people of the 3rd floor are for the most part musicians so you can expect to have a concert of indie-rock, electro, noise every month or so… Mark Dwinnel, who kind of manages the space of the 3rd floor, also used to organize lectures and poetry readings. I use the space to produce electro parties with Resolute and burlesque shows with MadSharpe production. Otherwise I would say that every other month the 1st and 2nd floor people exhibit their work or make the space available for performances.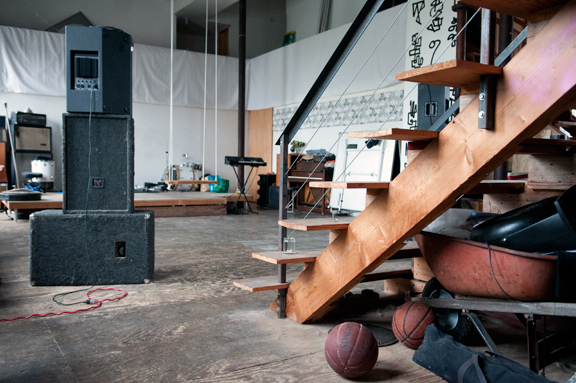 3rd floor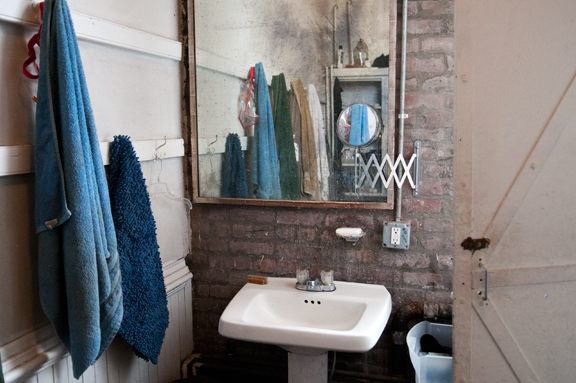 3rd floor
C & P: I read that you throw a block party in the summer. How did that start? Do most of the people in the building participate in some capacity?
Justin: Our neighbors have been throwing the block party for years. Only in the past couple have we begun to get involved. It has grown to become one of the best days of the year. The whole block comes together to celebrate the summer. We grill out front and blast music from the roof. Everyone brings something to eat or drink and the whole block shares everything. Our neighbors set up pools in the street and rent a giant (like 30 feet tall) inflatable water slide. At night we move the party inside and keep going until morning.
Chris: You just gotta get a permit for a date, then get neighborhood signatures. Then the city closes the street down for the day and all have a great time. Everyone is the building either comes out, or cooks, or just joins in the general festivities. Its probably the kids who live on the block that have the most fun, getting to run around like maniacs all day.

3rd floor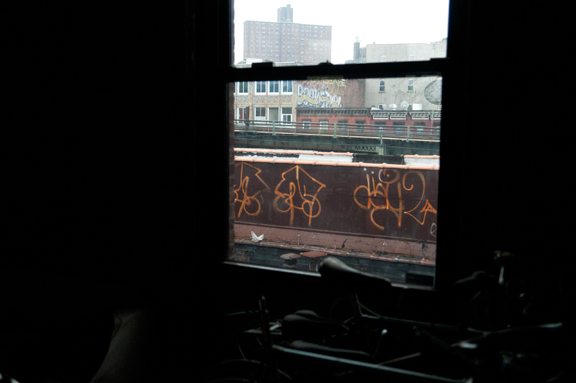 3rd floor
C & P: You are also involved in Bushwick Open Studios at the beginning of June. Do you have any special events planned in the space for the occasion?
Justin: Each of us will have our work up all over the space. We are going to build some tents to hang out in and I am going to make pancakes. I will play the organ in the living room a bit as well. Elliot will be screen printing down stairs and Willy will be roller skating around the dance studio while playing the guitar and singing.
Chris: There will be music events for sure. And we're all putting up some sort of art, so there will be plenty to see.
Augustin: Yes, of course! We will screen the latest movie that I directed and produced. It's a very dear project to me and I'm very proud of it. It's a short fiction named ADAM. The story revolves around the day of a street smart kid in Bushwick.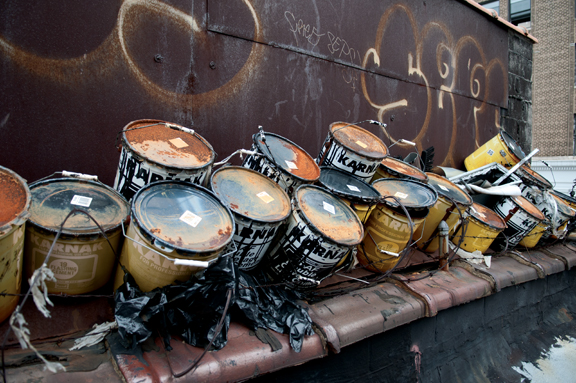 the roof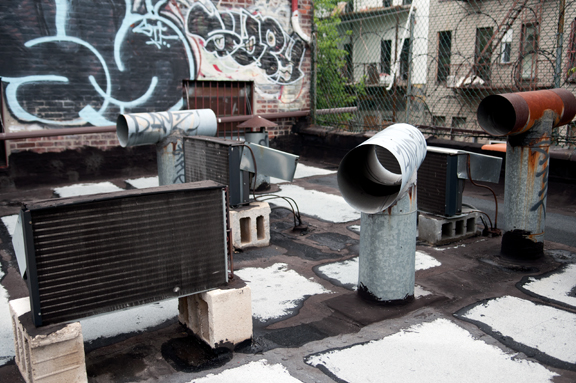 the roof
Photos © Christine Navin. Do not reproduce without permission.